Robert Carlyle and Irvine Welsh in Begbie talk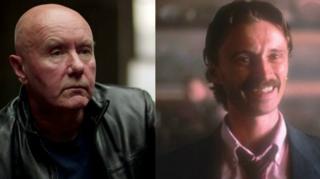 Trainspotting author Irvine Welsh is to be joined by actor Robert Carlyle for a discussion about the character he played in the movie 20 years ago.
Welsh will launch his new novel The Blade Artist, which catches up with Francis Begbie, at an Edinburgh International Book Festival event.
Carlyle portrayed Begbie in Danny Boyle's 1996 movie and will reprise the role in the forthcoming sequel.
They will be at Edinburgh's Usher Hall on 10 April.
It will be as part of the festival's Booked! programme.
It includes an audience question-and-answer session and will be followed by a book signing.
Welsh's new book finds Begbie now living and working in California as a successful sculptor with his wife and daughters, but he is forced to confront his violent past.
Ultra-violent
Nick Barley, Edinburgh International Book Festival director, said: "Francis Begbie is already a formidable character in Irvine Welsh's novels.
"In the Trainspotting movie, Robert Carlyle elevates Begbie to an unforgettable screen icon, ultra-violent and alpha-male while also quite complex with regard to friendships and sexuality.
"It's a real treat that Irvine's latest novel revisits this fascinating character and even more exciting that Robert will join Irvine in this special Edinburgh International Book Festival event to discuss a career-defining role."
The Trainspotting film was released 20 years ago this week while the book was first published in 1993.