Edinburgh city council 'on sounder financial footing'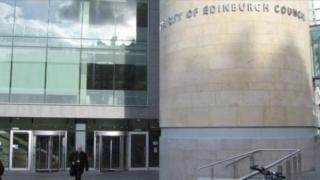 City of Edinburgh Council is on a "far sounder financial footing" than a year ago, according to a local authority watchdog.
The Accounts Commission raised concerns in December 2014 about the council's financial position when it faced a £67m budget gap.
The commission found the council had met its £39m savings target last year.
It also found the council was on track to achieve most of its planned savings for the current financial year.
Stronger position
The commission's report found while the council still faced major challenges, it now had a clear strategy for cutting spending through changing the way it delivered services and reduced its workforce.
The report also found councillors and senior managers now understood how to solve their financial problems, including making difficult decisions such as a new workforce strategy cutting 5% of staff by the end of March, saving £25m a year.
Douglas Sinclair, Accounts Commission chairman, said: "The council is now on a far sounder financial footing than it was a year ago.
"It has had to make tough choices on reconfiguring services and this hasn't been an easy time, not least for its employees.
"Edinburgh is not out of the woods yet and it is still early days with many of its planned actions. But it is in a much stronger position to meet the challenges that lie ahead."
Andy Wightman, Scottish Greens communities spokesman, said: "The Accounts Commission may well be praising Edinburgh for balancing its books but that has come with real pain for staff and service users.
"Among the 2,000 staff who are going are experienced and talented public officials who are hard to replace.
"There is no way that cuts of £85m this coming year alone can be made without frontline services being hit.
"Already, community organisations are losing grant funding, libraries, parks and street cleaning are facing cuts and school support staff are looking at an uncertain future."