Edinburgh University secures £200m loan for refurbishment projects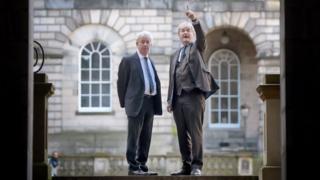 Edinburgh University's campuses are set to be transformed after the institution secured a £200m loan.
The money is being provided by the European Investment Bank (EIB) and will be used to "step up" a £1.5bn building programme.
It comes on top of a £100m injection from a US investment fund.
The money will be used for a range of building, construction and refurbishment projects over the next 10 years.
Officials said the investment would strengthen Edinburgh's reputation as a global leader in education and research.
The loan agreement was signed by Edinburgh University principal Prof Sir Timothy O'Shea and EIB Vice President Jonathan Taylor.
Projects include a new home for the School of Biological Sciences, a Data Technology Institute and the refurbishment of the School of Law at Old College.
The plan also includes a redevelopment of McEwan Hall - already used for university graduation ceremonies - into a combined ceremonial and conferencing facility.
Both 30-year loans have an average cost of borrowing of less than 3%.
Economic growth
The remaining £1.2bn of the funding for the programme will be raised through capital grants, historic and new fundraising and annual surpluses for investment generated by the university.
Prof O'Shea said: "We are very pleased that the EIB has made a commitment that equals its largest loan to date in the UK.
"The significant levels of investment involved will be used to deliver excellence in teaching and build our aspiration to address global challenges.
"This, coupled with our own ongoing investment, will ultimately help to create employment and economic growth in Edinburgh, Scotland and the UK."
Mr Taylor said: "The European Investment Bank recognises the ambitious development plans that will strengthen world class research, teaching facilities and student life at the University of Edinburgh over the next decade.
"This new £200m 30-year loan to the University of Edinburgh represents one of the largest ever loans to a European university, and reflects both the quality of the campus development plan and the European Investment Bank's clear commitment to support long-term investment in Scotland."
First Minister Nicola Sturgeon, said: "In Scotland, we have world leading universities and colleges that boast impressive partnerships with industry leaders.
"This record investment from EIB and the private sector will allow Edinburgh University to build on the achievements already made and take it to the next level as a world leading teaching and research institute."