Man threatened with hammer in Edinburgh street robbery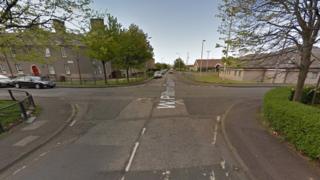 A police investigation has been launched after a man was threatened with a hammer in an Edinburgh street.
The 34-year-old handed over a quantity of cash to three men who approached him in West Pilton Gardens.
Police said the suspects ran towards Ferry Road Gardens following the robbery at about 22:30 on Thursday.
Two of the men wore hooded tops and jogging bottoms. One, who was tall, athletic and clean shaven, had an East European accent.
The second was in his early 20s, of medium build, and had heavy stubble on his face.
The third man was about 5ft 6in and skinny. He wore a hooded top and a body warmer.
Det Con Andy Cory said: "The victim was not injured during this robbery, but was shocked when one of the suspects produced a hammer and subsequently handed over money.
"We are now urging anyone who was in or around West Pilton Gardens on Thursday evening and remembers seeing anything suspicious to contact police immediately.
"Similarly, anyone who recognises the description of the suspects, or who has any information relevant to this investigation should also get in touch."