Tributes paid at murdered grandmother Mary Logie's funeral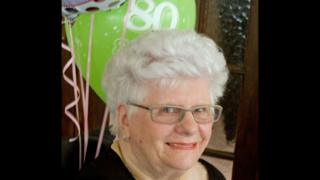 A Fife grandmother killed in her own home will be remembered for her "kind heart", her funeral has been told.
Mary Logie's body was found in her flat in Green Gates, Leven, at 20:00 on 5 January. About 190 people gathered at Leven Parish Church for the service.
Sandra Weir, also from Green Gates, is accused of murdering Mrs Logie.
In January, Ms Weir appeared at Kirkcaldy Sheriff Court and made no plea or declaration to five charges. She was fully committed for trial.
Ms Weir faces charges of murder, theft, theft by opening a lockfast place, attempting to pervert the course of justice and attempting to defeat the ends of justice.
Reverend Gilbert Nisbet led tributes to Mrs Logie, describing her as a "kind and helpful" woman who was a "rock" to her family.
Born and brought up in Methil, she worked in a local chemist after leaving school before meeting her husband Walter.
She was married for 33 years and the couple had two sons and a daughter.
Mrs Logie later worked as a part-time cleaner at a local photography business and as a home help, and was involved with the Church of Scotland Guild.
She was found beaten to death in the living room of her first-floor flat.
She had recently spent Christmas with one of her sons in England and was said to have led an active life, with lots of friends.
Mr Nisbet said the town was still struggling to comprehend what happened to Mrs Logie, who was also known as Rae.
"We gather today, a community shocked by the event which caused the death of Rae Logie, struggling to comprehend all that has happened here among us," he told the funeral.
"Our service this morning is overshadowed by the terrible action which caused Rae's death, but we must not let this predominate our gathering, nor allow it to fester into bitterness in our hearts.
He added: "Rae had a kind heart and she was always willing to go the extra mile to be helpful.
"She cared for those she assisted and continued to visit them after she retired.
"Rae was able to look back with quiet pride and genuine satisfaction on all that she did through her working life."
A statement from Mrs Logie's son Derek said: "We would like to thank everyone for their kindness and support at this difficult time."