Stabbed Aberdeen man 'was going to buy cannabis' in Edinburgh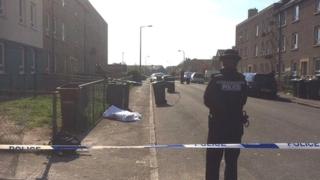 An Aberdeen man who was stabbed through the heart has admitted he had travelled to Edinburgh to buy cannabis.
Peter Stewart, 44, and his brother James previously said they had planned to buy a car.
Mr Stewart told the High Court in Livingston the planned deal involved buying cannabis and a used car.
Ryan Ellis, 31, and a 17-year-old who cannot be named for legal reasons deny robbing and attempting to murder Peter Stewart and assaulting James Stewart.
Mr Stewart said a teenager - who he identified as "number one" - had led them into the close of a block of flats in Edinburgh before spinning round and attacking his brother.
'Slipped on blood'
He said: "All I saw was the glint - definitely metal - and my brother falling to one side.
"As soon as I saw it happening I moved forward to try and defend my brother.
"I put myself between him and number one. Number one stabbed me through the lung into the heart severing the right ventricle.
"Two men came out at either side of the landing on the ground floor and proceeded to join in on the action. It was like it was already exactly set up. They both came out at the same time and focussed on me.
"By this time I'd known that I'd been stabbed because I slipped on my own blood. I remember I felt something push and then pull within my chest.
"I just got out and my legs gave out on me. I didn't know but I'd lost a tremendous amount of blood."
'Litany of lies'
He added of his hospital treatment: "By some miracle they saved my life."
Under cross examination by Brian McConnachie QC, defending the teenager, Mr Stewart admitted that he had told police a "litany of lies" in a series of lengthy and detailed statements.
He also admitted that he had not identified Mr McConnachie's client as his assailant in any police interview but denied that he and his brother had attacked the youth in a bid to steal cannabis from him.
The trial, before Lord Glennie, continues.