Forth Road Bridge crossing times for HGVs extended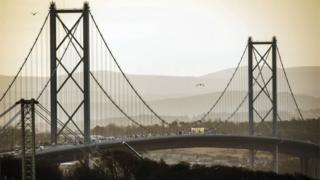 The hours during which HGVs can cross the Forth Road Bridge have been extended.
The bridge will now open to HGVs from 23:00 until 05:30 - meaning hauliers will have an additional hour and a half to make journeys.
The bridge was closed to all vehicles for almost three weeks in December after a fault was discovered.
It reopened to cars on 23 December and partially re-opened to HGVs earlier this month.
It was thought the bridge would fully reopen in mid-February but officials have since said it will be mid-March.
Transport Minister Derek MacKay said the extended hours, which were successfully trialled on Monday morning, were another step to fully reopening the bridge to all traffic.
He added: "The HGV trial has been running for more than a week now and our careful monitoring shows that we can now allow more vehicles across the bridge.
"It means that more than 90% of traffic has access to the bridge while the strengthening work is carried-out by our expert team.
"All indications are that we are on track for the full re-opening soon and we will continue to explore options to allow as many HGVs as possible to use the crossing in the meantime."