Edinburgh's Hogmanay director Pete Irvine steps down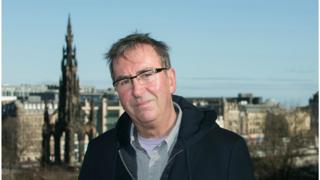 The director of Edinburgh's Hogmanay is to stand down after more than two decades in charge.
Pete Irvine, who founded the company Unique Events in 1992, described this year's New Year party as one of the most successful yet and said it seemed like the "right time" to step down.
All of the Hogmanay events were sold out, with visitors attending from more than 82 countries.
The celebrations were established by the city council in 1993.
The festival includes events such as the Street Party, Loony Dook, and the Torchlight Procession.
'Light up the dark'
Mr Irvine said: "Almost 25 years ago it was my great privilege to be given the opportunity to create a new event (or festival, as I subsequently proposed), to encompass the then ad hoc Hogmanay gathering and to celebrate the midnight moment in a way more fitting for Scotland's capital city.
"As I saw it, it was also an opportunity to light up the dark and curiously empty days around New Year and to show a new side and edge to a city whose cultural credentials were most closely associated with its August festivals."
Richard Lewis, Edinburgh City Council's festivals and events champion, said: "Under Pete Irvine's creative direction, 'The Bells' have been transformed into a world-famous three-day festival that has set the standard for global new year celebrations with numerous major cities following our lead."
Unique Events and Edinburgh's Hogmanay will move forward under directors Penny Dougherty and Alan Thomson.
Mr Irvine will continue to work with the company as creative director of New Year's Day arts programme Scot:Lands and as an artistic consultant on other new projects.