Man punched and robbed by men in street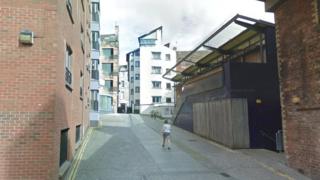 A man has been punched and robbed in an Edinburgh Street by two men, one of whom had stumpy brown teeth.
Police appealed for witnesses to the incident which happened in Jackson's Entry at about 22:30 on Thursday.
A 19-year-old man had taken his wallet from his pocket as he looked for a cash machine when two men ran towards him from behind.
The pair knocked the man to the ground and punched him in the face before stealing his wallet and running off.
The first man was white, in his early 20s and about 5ft 8in or 5ft 9in tall, of skinny build, with a very pale complexion.
'Distressing incident'
He had small stumpy brown teeth and a receding hairline forming a v-shape on his forehead. He also had blue eyes and black stud earrings in his ears. He was wearing a grey cotton Adidas tracksuit.
The second man was white with a tanned complexion, of athletic build and had dark spikey hair and sunken eyes.
He was wearing Puma jogging bottoms and a black hooded top with a gold zipper.
Det Con Iain Wallace from Police Scotland, said: "This was a very distressing incident for the victim, though, thankfully he did not sustain any serious injuries."
He appealed for anyone with information to contact police.