'Massive' jump in Edinburgh Airport's international passengers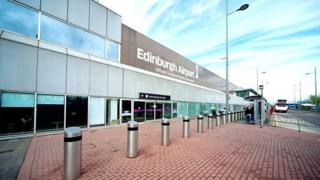 The number of people passing through Edinburgh Airport increased last month, with a "massive" jump in the number of international passengers.
Latest figures showed 700,142 people used the airport in January, up 11.4% on the same month last year.
The 342,540 international passengers recorded was a 21.7% annual increase, the greatest monthly rise since January 2008.
Meanwhile, Glasgow Airport had its busiest January on record.
Glasgow Airport saw 551,177 passengers pass through its doors, an annual increase of 13.5%.
International traffic at Glasgow Airport grew by 17.6% due to strong demand for some of the airport's new services to European cities such as Milan and Bucharest - both of which launched in December 2015.
'Huge achievement'
Officials said Emirates, which offers a double daily service to Dubai, and Aer Lingus, which this year added capacity to Dublin, also reported particularly strong demand.
Domestic traffic increased by 10.2% compared with the same period last year due to strong uptake on the airport's London routes provided by British Airways, easyJet and Ryanair.
Flybe's new services to Cardiff and Exeter also proved particularly popular.
Amanda McMillan, managing director of Glasgow Airport, said: "After being named one of the fastest growing airports in Europe in 2015, it is a huge achievement for us to start our 50th anniversary year with yet another month of double digit growth.
"We anticipate 2016 will be our busiest year on record, welcoming nine million passengers through our doors for the first time.
Gordon Dewar, Edinburgh Airport's chief executive, said: "The massive increase in the number of international passengers highlights the growing draw of Edinburgh as a prime global destination.
"We are continuing to offer greater choice with more routes and more destinations - and passengers are responding by flying in and out of Edinburgh directly in greater numbers than ever before."