Rabbit found abandoned with 'horrifically overgrown teeth'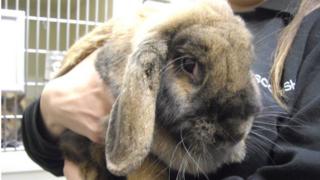 A rabbit with "horrifically overgrown teeth" has been found abandoned in Edinburgh.
The rabbit was discovered at a block of flats at Chalmers Buildings in the Fountainbridge area of the city on 29 January.
The female rabbit is now at the Scottish SPCA's animal rescue and rehoming centre in Edinburgh, where she has been named Danni.
The Scottish SPCA is appealing for information.
Jennifer Surgeon, of the Scottish SPCA said: "Danni was found in a cage with a bag of shavings and hay on top.
"Her front teeth were horrifically overgrown and she had a dirty back end.
"Thankfully, after a visit to the vets she is now doing well and we are hopeful we will be able to find her a loving new home once she's made a full recovery.
"We are keen to identify the person who abandoned Danni."
Abandoning and causing an animal unnecessary suffering to an animal is an offence under the Animal Health and Welfare (Scotland) Act 2006.
Anyone found guilty of doing so can expect to be banned from keeping animals for a fixed period or life.