High winds to affect Forth Road Bridge traffic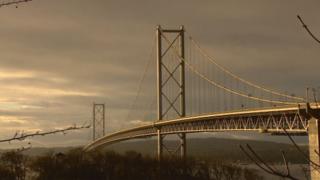 The Forth Road Bridge is "likely" to be closed to all traffic except cars on Friday morning and may be shut entirely as winds peak at about 08:00.
Users of the bridge are warned to be prepared for disruption due to very strong winds forecast for Friday.
Winds are not expected to reach levels that would close the bridge after 10:00.
If the bridge closes then inspections may be required before it reopens.
Car drivers are advised to check the conditions before travelling.
Public transport is likely to be affected, with winds forecast in excess of the level at which buses would be permitted to cross from about 04:00.
The bridge is expected to be closed to cyclists and pedestrians throughout the day, and remains closed to HGVs while repairs to the truss end links continue.
Mark Arndt, Amey's operating company representative for the Forth bridges unit, said: "Our site-specific weather forecast for the Forth Road Bridge is indicating very strong winds on Friday morning that are likely to close the bridge to all vehicles except cars.
"The forecast then shows winds peaking around 08:00 with gusts that could potentially close the bridge to all traffic."