Charity launches 'Year of the Dad' in Edinburgh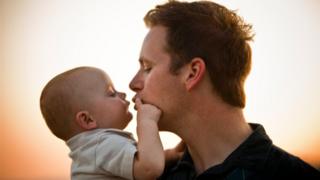 Scotland's first "Year of the Dad" has been launched in Edinburgh.
The charity Fathers Network Scotland (FNS) aims to highlight the positive contribution fathers make to children, families and society.
Events will include a conference held in collaboration with the Centre for Research on Families and Relationships.
FNS said it would be "a day of reflection, dialogue and stimulation for academics, policy-makers, diversity and inclusion leaders".
Fathers Network Scotland is also looking to recruit working dads to take part in research projects.
The Year of the Dad campaign was launched at Edinburgh Zoo by Minister for Children and Young People Aileen Campbell.