Scottish students pitch Hyperloop high-speed transit plans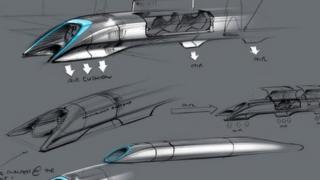 A team of Edinburgh University students are heading off to Texas to present their plans for a "Hyperloop" hyper-fast transportation system to a tech billionaire.
"Edinburgh to London in 35 minutes." That is the mission of 21-year-old Adam Anyszewski, a third year engineering student at Edinburgh University.
He and six other colleagues are huddled around a laptop in a meeting room in the university's Physics Department. There is much pointing to the screen and poring over plans as they scrutinise every detail of their design for a new high-speed transport link between the two cities.
The 'idea' entails travelling inside a capsule as it is catapulted through a suspended tube at speeds in excess of 700 mph.
23-year-old Bartosz Krol, a fellow engineering student, explains: "We have this evacuated tube in which we put a capsule, which is bullet-like. We put people in the capsule and we shoot it in the evacuated tube."
This is where things begin to sound like the stuff of science fiction; but it is not as far from reality as you would think.
The concept belongs to entrepreneur and SpaceX boss Elon Musk. It's called Hyperloop, and this past week we learned it is one step closer to happening.
Construction papers have been filed for a route between San Francisco and LA that could be passenger-ready by 2018. But closer to home, a team of 30 students based at Edinburgh University are making a pitch to get on board.
SpaceX has launched a competition for universities to come up with a design model for the transportation system. Edinburgh is one of only two universities in the UK and 11 in Europe to secure a place in the later stages.
The students leave for Texas on Wednesday to present their ideas to SpaceX and if they are successful, the next step is to build a prototype.
Team members are studying a range of subjects from engineering to art and design. They say the project has been a great way to collaborate between sciences and arts that so often operate in isolation.
'It has to work'
Gabrielis Cerniauskas, 21, who is in charge of chassis and integration, explains: "Engineers only think technical stuff, product designers think about how to make it comfortable for passengers, how to make it look good.
"And you need to put everything together, because it has to work as a single pod which takes people inside.
"They feel good about the journey, they enjoy the whole ride. But at the end of the day it also has to work."
The Edinburgh model is based on a capsule about 10 metres long. It would accommodate about 8 people, with pods leaving every 30 seconds or so.
It was down to seven art and design students to come up with a comfortable space that does not feel claustrophobic.
Second year product design student Joe Revans, 20, explained the restrictions put on the design from the outset.
He said: "We had to fight nail and tooth for every centimetre we have in this pod, because the effectiveness of the travel is determined by the size of the space inside.
"So it doesn't matter how long the pod is, it's the surface area of the front of the pod that determines all of the efficiency."
Away from the capsule design, the other imperative of this competition is that it works - and is safe.
This has meant late nights for the technical team as they pore over the ideal shape for the pod, to reduce aerodynamic drag and stop it generating shock waves.
Levitation is also crucial to ensure comfort for passengers as the vehicle is propelled around bends at great speed.
Justas Lukosiunas, 21, is in charge of the pod's electronics and safety.
He said: "It's a technical competition so we have to pitch our technical ideas in an comprehensive way, because we're up against universities like MIT and Stanford."
This competition is an indication of the interest in Hyperloop travel - and the competition will be stiff.
Many of the world's leading universities are involved; often their projects are funded.
But the University of Edinburgh Hyperloop Team are funding themselves. It's meant many an evening and often a night working on elements of the project. It's been in the making for six months.
'Like space travelling'
In reality, it's not the technology that will cause a barrier to Hyperloop, it's likely to be the cost. The estimate for the San Francisco to LA line is about £5.6bn.
The other snag might be getting the paying passenger to buy in. However, the team themselves have no qualms about stepping into an airless and windowless pod.
Mechanical engineering student Qingbiao Li, 23, is working on the air bearings and levitation. He expects the passenger experience to be a little out of this world.
He said: "It's maybe like space travelling, because it's a vacuum just like space, and high speed just like a plan. I think it would be quite cool."
As he powers down his laptop after another long team meeting, Adam sums it up like this: "If this becomes reality, say in 20 years down the line, I can tell my grandchildren that part of what they are using now could be part of my ideas. And I find that great."