New railway station will be 'gateway' to Edinburgh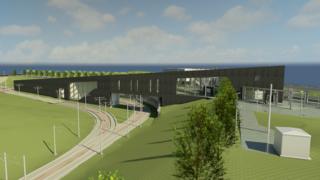 Edinburgh's newest railway station is on schedule to open by the end of the year, Network Rail has said.
The "Edinburgh Gateway" has been designed to allow rail passengers travelling from the north to reach the city's airport more easily.
An interchange will allow them to complete their journey to the terminal building by tram.
The £41m station is being built next to the Gogar roundabout on the A8 and will also have a link to the Gyle Centre.
The station is part of the Edinburgh-Glasgow Improvement Programme, which will see the electrification of railway lines in central Scotland.
Engineers have been working at the site for 12 months. The new station will serve passengers from Fife and the north who want to go onto to the airport or use the tram network.
It is hoped the station will also be a catalyst for future economic investment and activity.
Scottish Transport Minister Derek Mackay said the opening of the station in December 2016 would mark a "pivotal milestone" in the government's £5bn investment in Scotland's railways.
Network Rail managing director for Scotland Phil Verster said: "Despite the challenging weather, the project team at Edinburgh Gateway has maintained its focus on keeping this work on programme.
"There is a real commitment and enthusiasm to build a facility which will deliver real and significant benefits for passengers on our network, enhancing the connectivity between different modes of transport and becoming a catalyst for economic investment and local development"
"The quality of the station being constructed has the potential to become a true Gateway to Scotland's capital which will leave people with a positive first or final impression of our railway network".