Renewed appeal over nose bite attack on Edinburgh's Queen Street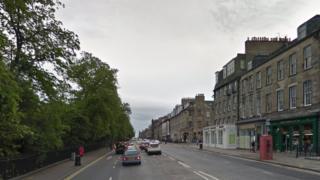 Police have made a renewed appeal for witnesses to a nose biting attack in Edinburgh city centre before Christmas.
The incident took place at about 02:30 on Sunday 20 December in Queen Street.
The male suspect approached a 33-year old woman in the street and began to pay her unwanted attention until her husband intervened.
At this point an "altercation" took place between the men resulting in the victim having his nose bitten and being seriously injured.
WARNING: THE PHOTO OF THE INJURY IS FURTHER DOWN THIS STORY. SOME PEOPLE MAY FIND IT DISTURBING.
Two further men, who are believed to have known the suspect, approached the group and attempted to calm the situation.
The suspect and the other two men were last seen heading down Queen Street Gardens East.
Following the attack the victim was taken to Edinburgh Royal Infirmary.
Police said they had been pursuing "a number of lines of inquiry" and have now released an image of the injury the man suffered.
The suspect is described as white, between 20 and 30 years old, 5ft 11in tall with a stocky build and a local accent.
He had short, fair hair and stubble and was possibly wearing a grey top with thin black stripes.
One of the men who intervened is described as white, in his early 30s, 6ft 2in tall with a slight build. He had short ginger hair, a clean-shaven face and was wearing a white T-shirt and dark trousers.
The second man is described as white, also in his early 30s, 5ft 8in tall with a slight build, dark hair and stubble on his face. He was wearing a grey-hooded jacket and dark jeans.
Det Con Alison Wyllie said: "This was a violent attack which has left the victim requiring ongoing treatment, and we're conducting extensive inquiries in order to trace the suspect.
"We have released the image of the victim to show the extent of his injuries and to perhaps convince whoever was responsible to come forward.
"I would also ask that the two men who intervened contact police immediately and assist us with our ongoing investigation."
She also urged anyone who may have witnessed the attack to get in touch.