Saughton Park to be restored at cost of £3.8m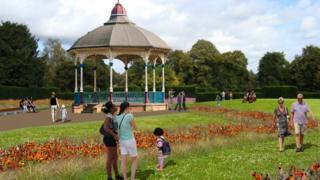 A historic Edinburgh park is to be restored following a £3.8m lottery grant.
Saughton Park will see restoration of the walled garden with new herbaceous borders, planting schemes and refurbishment of the Winter Garden.
The original bandstand will be reinstated and a new cafe and public toilets built.
The Heritage Lottery Fund has also awarded Hermitage Park in Helensburgh £2.3m for improvements.
It said its grants would transform both parks, reinstating plants and trees, repairing paths, restoring historic features and introducing new facilities.
It added that, to-date, it had helped turn around the fortunes of 45 parks in Scotland with an investment of more than £58m.
Lesley Hinds, Edinburgh city council's environment convener, said: "I am thrilled that the Heritage Lottery Fund has given us this support.
"Saughton Park is a hidden gem in the south west of the city and this funding will help restore and improve this historically important park.
"In 2013, at the early stages of the bid, I had said this was a once-in-a-lifetime opportunity to get the funding to put this park back at the centre of outdoor living in Edinburgh and also at the centre of horticultural activities in Scotland and I am delighted that it is coming true."
Ellen Morton, Argyll and Bute deputy leader, said: ''We are delighted with this news.
''Following on from the completion of the town centre regeneration project last year, which has given the town a real boost, this is yet more good news."
Lucy Casot, head of The Heritage Lottery Fund in Scotland, said: "Parks, and the historic features in them, are a wonderful legacy from our ancestors.
"They are enjoyed by all ages and are often a community's only green space in which to relax away from the pressures of daily life.
"Using funds raised through the National Lottery, HLF is able to protect and transform these precious places helping make a difference to the quality of life for millions of Scots."