Bird flu strain 'distinct' from previous form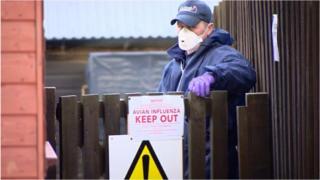 The bird flu strain at a Fife farm is "quite distinct" from the form of H5N1 which has previously caused significant problems, Environment Secretary Richard Lochhead has said.
A one kilometre protection zone was set up around Craigies Poultry Farm on the outskirts of Dunfermline on Monday after a type of H5N1 was found.
Tests indicate a "low pathogenic" strain.
The minister said there was "minimal risk" to public health.
All 40,000 birds will now be culled on site on Wednesday.
Mr Lochhead said: "It is quite distinct from the highly pathogenic form of H5N1, which caused significant problems over the last decade or so around the world.
"I have been advised there is minimal risk to public health.
"I want to commend the farm manager for reporting the suspicious illness of the birds and the private vet who in turn reported it and took the necessary action with the authorities.
"That is the responsible action that we would expect poultry keepers and their vets to take and I thank them for that."
There have been a number of recent cases of avian influenza across continental Europe in recent months, including three cases in other parts of the UK in 2015.
Within the Fife control zone, a range of different measures are in place which include restrictions on the movement of poultry, carcasses, eggs, used poultry litter and manure and restrictions on bird gatherings.