Baby attacker Ross Dunn has 15-year jail sentence cut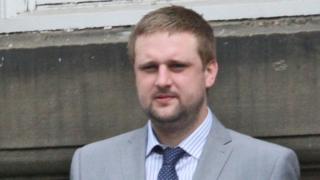 A man who was jailed for 15 years for the attempted murder of a baby girl has had his sentence cut to 10 years.
Ross Dunn, 28, from Edinburgh, shook the girl and hit her off a surface while he was looking after her.
The baby suffered a fractured skull, broken leg, eye damage, bleeding and bruising and is now registered blind.
Dunn's sentence for what his trial judge described as "an inexplicable, horrendous crime" on a four-week-old girl, was reduced after he appealed.
He had denied attempting to murder the child at an Edinburgh flat on 17 November 2013 but was found guilty and sentenced in August.
Defence counsel Donald Findlay QC told the Court of Criminal Appeal in Edinburgh: "In the whole circumstances of this case, the sentence falls to be regarded as excessive."
He said the case involved a single incident and there was no underlying sense of someone being deliberately cruel.
'Genuine contrition'
Mr Findlay said Dunn, who his trial heard had a temper problem, was "distraught" at the knowledge that he had caused harm to the child.
"After the trial the contrition expressed by him, I am quite comfortable in saying to the court, was profound and genuine," he told appeal court judges Lady Smith and Lord Menzies.
Lady Smith said in giving the decision to reduce the sentence that they bore in mind that the conviction was for a charge of attempted murder. But she said they also had to have regard to the principle of comparative justice.
The decision followed earlier appeal rulings reducing prison sentences imposed on men convicted of assaulting babies.
Steven Davidson, 23, of Dumbarton, had a seven-and-a-half-year sentence reduced to six years and nine months after he shook a six-week-old child and threw her down on a sofa, leaving her requiring constant care.
Stephen Sweeney, 27, of Blantyre, South Lanarkshire, had a seven-and-a-half-year sentence cut on appeal to five years and three months for a shaking attack on a five-week-old baby boy.