Vandals sought over desecrated graveyard in Fife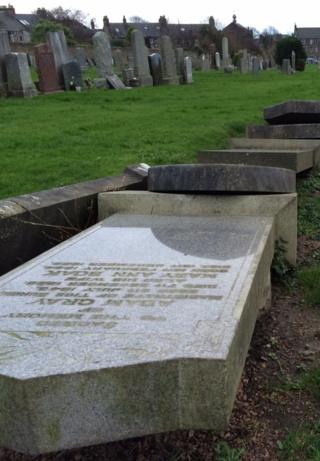 Vandals have desecrated a cemetery in Fife over the festive period, knocking over about 60 headstones.
The damage was carried out between Thursday 24 December and Monday 4 January at Bennochy Cemetery in Kirkcaldy.
Police think several people may have been involved as some of the headstones are so heavy, and are appealing for witnesses to come forward.
A groundsman reported the damage on return to work after the festive break.
The graveyard is on a popular route for dog walkers so officers are appealing for anyone who saw the vandals or any suspicious behaviour to contact them.
Fife Council said it was an "incredibly distressing" time for relatives visiting cemeteries and the behaviour was "despicable".
PC Mark McCulloch, of Police Scotland, said: "It appears that around 60 headstones were deliberately knocked over, and we believe due to the weight of them that this may have involved several people.
"Cemeteries are a place to be respected and this appalling behaviour has caused a lot of distress to people that have loved ones buried there.
"This is a popular route for dog walkers and we're urging anyone who noticed this damage over the festive period to come forward, as we're working to establish the timeframe within which this occurred.
"We're also appealing for anyone who witnessed these acts, saw suspicious behaviour in the area during this time, or has any other information that can assist with the investigation to come forward."
Liz Murphy, Fife Council's bereavement services manager, said: "This is an incredibly distressing time for relatives and those visiting our cemeteries.
"This kind of behaviour, although rare, is despicable and we'd ask anyone who has any information about this incident to come forward and report it."