Baby ashes scandal: Parents call for undertakers to be regulated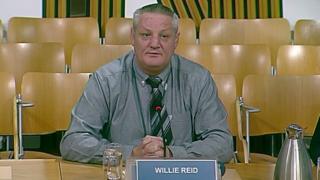 Bereaved parents are calling for undertakers to be regulated and licensed nationally following the baby ashes scandal.
Giving evidence to Holyrood's health committee, they called for funeral directors to be inspected and held to account for their actions.
For decades, babies ashes were disposed of without their parents knowledge.
They had been wrongly told it was not possible to retrieve ashes from such young babies after cremation.
The Burials and Cremation bill follows the scandal which was first uncovered at Mortonhall in Edinburgh.
Further cases were reported in Aberdeen, Fife and Glasgow.
More than 250 families are known to have been affected in what a report described as a "great tragedy".
Proposals have been made to introduce a legal definition of what constitutes ashes after cremation, in a bid to prevent any future incidents.
The Burial and Cremation (Scotland) Bill will require authorities to retain details of both burials and cremations.
Witnesses at the committee included Willie Reid, 50, from Bathgate who lost his daughter Donna at two days old and Ann McMurray from Stillbirth and Neonatal Death Charity Scotland (SANDS).
Mr Reid told MSPs: "Funeral directors need to be licensed and regulated as part of this bill.
"This needs to be done nationally so they all carry out the same procedures.
"There needs to be some censure if they (undertakers) contravene it.
"The censures have to be swift, robust and fair."
He said his personal experience was he never spoke to anyone other than the undertakers and everything was done via them.
Mr Reid said they give a form to a parent to sign when their baby dies. He said the undertaker told him at the time that there were no ashes from a baby cremation.
However, he said recently he had seen the form again and on the back was a box that was ticked to say he was signing for the ashes to be sprinkled at the garden of remembrance.
Mr Reid said therefore he felt funeral directors had a big part to play in the process but they did not appear in any legislation.
The Holyrood Live coverage of the Health and Sport committee can be viewed here.