Industrial action threat for National Museum of Scotland and National War Museum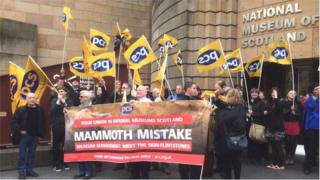 The National Museum of Scotland and The National War Museum in Edinburgh are to close for a third Christmas holiday period due to industrial action.
Members of the PCS union plan to walk out on Boxing Day and the 27 December over a long-running dispute about weekend allowances.
Picket lines will be in place from 11:30 to 12:30 on Boxing Day and from 09:30 until 10:30 on 27 December.
A National Museums Scotland spokeswoman said visitors should check the website.
'Extremely disappointed'
Lynn Henderson, PCS Scottish Secretary, said, "This dispute is becoming as much a part of a Scottish Christmas as Still Game or turkey dinner, neither the management of the National Museum or Scottish Ministers seem willing or capable of sorting this, each offer platitudes and blame each other.
"We are extremely disappointed that talks have yet again broken down without agreement. Our members are now forced to take further action and believe it is now time for the Cabinet Secretary for Culture, Fiona Hyslop, to make resolving this dispute her New Year resolution."
A National Museums Scotland spokeswoman, said: "The full extent of the disruption will not be clear until Saturday, so we would advise visitors to check our website before travelling to the museum.
"PCS is demanding the introduction of weekend payments for staff who work weekends.
"In January 2011, National Museums Scotland introduced revised contracts for new staff, which do not include weekend working allowances - this is commonplace in the many shops, businesses and other visitor attractions which, like National Museums Scotland, operate seven days a week.
"To introduce weekend payments for these staff would be an additional cost of over £400,000 per year, which in the current public sector funding climate is unaffordable.
"No member of staff has received a pay cut following the introduction of new contracts in 2011 and existing terms and conditions have been preserved for all staff employed prior to this date."