Fresh appeal after woman dies on A1 near Torness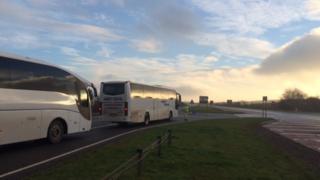 Police have made a fresh appeal for information after a woman died after being hit by a car early on Wednesday morning in East Lothian.
She was walking on the A1 southbound carriageway near Torness when she was hit by a silver VW Golf at 05:45.
Police have said they are still attempting to establish the identity of the woman.
She is described as 5ft 8in tall with dark hair and was wearing dark clothing.
Officers said they want to speak to anyone who saw the woman standing beside a stationary vehicle at 05:30 about 200m (just over 600ft) from the Thurston Manor junction on the A1.
Sgt Scott Sneddon said: "We are appealing for anyone who saw the woman at this location this morning or for the driver of the vehicle to please get in touch with us.
"We believe it was a taxi or private hire vehicle and they may have information that can help us to establish the identity of the woman so we can contact her next of kin."