Quarter of Queensferry Crossing bridge deck in place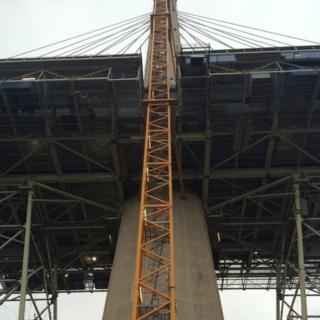 More than a quarter of the bridge deck is now in place on the Queensferry Crossing, with a year to go before opening.
Infrastructure Secretary Keith Brown visited the bridge earlier.
Lifting the 750 tonne deck sections into place began in September and 36 are now installed out of 122.
The £1.4bn crossing was ordered by ministers because of corrosion of the main suspension cable on the Forth Road Bridge.
The BBC's Lisa Summers visited the under-construction Queensferry crossing. Follow her at @BBCLisaSummers for the latest pictures and video
About 1,200 workers are now employed on the project which is due for completion in December 2016.
Mr Brown said: "This has been another strong year of progress on the Forth Replacement Crossing.
"I am pleased to report the project remains on schedule and significantly under budget thanks to the Scottish government's diligent project management and the expertise and hard work of our contractors.
"The current closure of the Forth Road Bridge has brought into sharp focus the need for a new crossing over the Forth."