Algerian Mourad Mosdefaoui jailed for Islamic State support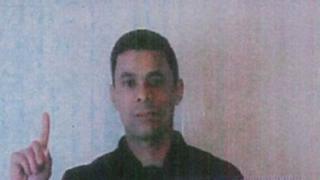 A former Algerian soldier, who had been living in Edinburgh, has been jailed for two years after posting messages on social media supporting terrorism.
Mourad Mosdefaoui, 34, pled guilty at Edinburgh Sheriff Court to sending text and images celebrating IS atrocities.
Sheriff Crowe said it was "fortunate" Mosdefaoui was 'traced before matters developed further''.
Fiscal Depute, Callum Darling, said Mosdefaoui claimed to be unaware it was an offence to post such messages.
Sentence had been deferred for reports.
Sheriff Frank Crowe told him: "Your actions clearly provoked support from other misguided persons until the postings were taken down. It was fortunate you were traced before matters developed further."
He added he was taking into account what had been said by defence advocate, Niall McCluskey, that Mosdefaoui no longer supported the Islamic State group.
The sheriff heard previously that Mosdefaoui, who came to Britain in 2008, had been refused asylum on three occasions.
He had then obtained a false Belgian identity card so he could obtain work and had been employed in a restaurant in Edinburgh.
Mr Darling said: "He stated that he was motivated by atrocities committed in Syria by the Assad regime, but he had become aware of atrocities committed by Islamic State and had come to strongly oppose the organisation and claimed not to support extremists on either side of the conflict."
When charged with the offences, he had said: "I didn't think it would cause fear and alarm."
'Jihadi John'
A mobile phone found in his possession contained 11,216 images and 61 videos.
They included photographs of militants and dead and mutilated children as well as beheadings and other executions.
Among them were images appearing to depict a beheading carried out by Mohammed Emwazi, known as "Jihadi John".
On 22 September 2014, the accused posted an image of himself holding a notepad bearing Arabic text which stated: "The Islamic State will remain and expand. God willing".
He was also making a hand gesture used as a religious sign in Muslim prayers, but also used by members of supporters of IS, whilst chanting: "The Islamic State, remaining and expanding".
On 24 September 2014, he posted the image of Abu Bakr al-Bagdhadi, the leader of IS and self-proclaimed caliph whose followers believe to be the political leader of all Muslims.
On 9 March 2015, Mosdefaoui posted a message stating: "The main thing that is troubling me is that I have been living in a country of blasphemy for a long time.
"Most people might be busy looking after their jobs, cars or businesses but, believe me brothers, I am very scared that God will replace me and not use me to defend his religion and the honour of the virtuous girls in Iraq and Syria. Pray for me brothers, in your heart, as I need your prayers."
Mr Darling said: "In the message the accused appears to suggest that he would be willing to fight in Iraq and Syria. The messages posted by the accused celebrate the terrorist acts of the Islamic State of Iraq and the Levant. The messages amount to encouragement of support for a proscribed group and may be inferred to encourage acts of terrorism generally".
Defence advocate, Niall McCluskey, told Sheriff Crowe that his client had been "reckless".
"He very much regrets his behaviour. He is remorseful for it and realises he was naive and stupid to post the matters he did," he added.