Stuart Young jailed for raping two babies and abusing girl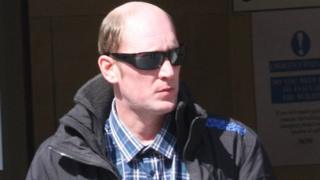 A man who repeatedly raped two babies and sexually assaulted a young girl has been given a life sentence.
The High Court in Edinburgh heard Stuart Young, 37, attacked his youngest victim, a baby boy between when he was one day and three months old.
He also raped a girl, aged six months, and abused a nine-year old girl.
The judge said he violated his victims "in the most unimaginably cruel and depraved manner" and ordered him to serve at least eight years in prison.
During a trial earlier this year, the court heard that on various occasions between November 2008 and December 2013, Young raped a young girl at various addresses in Edinburgh. She was six months when the abuse began.
On an occasion between April and July 2013, the 37-year-old raped a baby boy.
On 18 July 2013, he sexually assaulted a girl at a house in Edinburgh.
'Substantial risk'
The primary school pupil said that Young had been watching Braveheart before he attacked her.
When asked how she felt at being abused, the girl, who is now aged 11, told the court: "Disgusted."
On Tuesday, temporary judge Paul Arthurson QC imposed an order for lifelong restriction on Young, meaning he will only be released from custody when the parole board no longer consider him a threat to public safety.
Passing sentence, the judge told Young: "You should be aware that this does not mean that you will only serve eight years in prison.
"As I have observed, this is an indeterminate sentence which means that you only be released from custody when the parole board no longer consider you to be a threat to the safety of members of the public.
"You are a serial sexual offender who poses a substantial risk to children. Your violated your victims in the most unimaginably cruel and depraved manner."
He added: "The offences to which you have been convicted of are highly disturbing. You display psychopathic traits and you show no empathy whatsoever with those who have been abused."
Police Scotland have praised the bravery of Young's victims.
Det Ch Insp Alwyn Bell of Police Scotland said: "Stuart Young carried out a catalogue of serious sexual offences against children over a number of years but thanks to the bravery of the two girls who came forward we have ensured he has been brought to justice.
"Young deliberately targeted his victims in order to satisfy his own depraved needs over a sustained period of time and I hope today's sentencing provides some sense of closure to the victims.
"We will continue to work alongside our colleagues from the NHS, the social work department and the voluntary sector to ensure the victims receive all the specialist assistance and support at the earliest opportunity to aid longer-term recovery."