Alan Lowey jailed for 10 years for raping girl in Edinburgh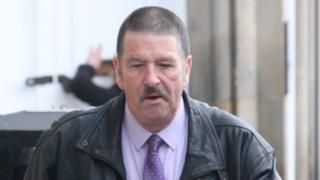 A man who raped a five-year-old girl and sexually assaulted another child in Edinburgh over a 15-year period has been jailed for 10 years.
Alan Lowey, 60, abused the two children at various locations in Edinburgh between May 1974 and September 1989.
Lowey, from Inverkeithing in Fife, was sentenced at the High Court in Edinburgh.
He was convicted last month of rape and sexual assault charges following a trial in which he denied his guilt.
Sentence had been deferred for the court to obtain reports.
The jury convicted Lowey of raping and sexually assaulting the five-year-old girl on various occasions between September 1978 and September 1989.
His second victim was four years old when Lowey started abusing her in May 1974. The abuse continued until September 1976.
'Deplorable conduct'
The court heard how Lowey was brought to justice after the women told police about their ordeal.
On Tuesday, defence advocate Gary Allan told the court his client still maintained he was innocent of all charges.
Mr Allan asked temporary judge Paul Arthurson to show leniency to Lowey. The lawyer said that if the accused was sent to prison, it would have a negative effect on his family's finances.
He added: "He has been industrious throughout his life and has always been in work. He is still technically employed although I do suspect that the disposal in this case will frustrate this state of affairs."
Judge Arthurson told Lowey that he had no other option but to send him to jail.
He added: "You have been convicted of a number of serious sexual offences. Your conduct has been deplorable.
"You have shown little insight into the effect that your behaviour has had on your victims. I am going to impose a custodial sentence."