Teenager pleads guilty to raping 'vulnerable' woman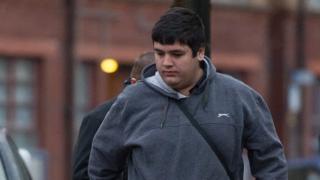 A teenager has admitted raping a "vulnerable woman" who has mild learning difficulties.
Kenneth McGeechan, 18, raped the 20-year-old in a 40-minute attack in Dunfermline in April.
McGeechan and the woman were staying at a house used by Fife Council to provide supported accommodation for young adults.
The High Court in Glasgow heard that the victim had been left badly affected by her ordeal.
She had previously confided in McGeechan about her troubled upbringing and has been left "very angry" about what he did.
A woman employed by Fife Council as a support worker was also stayed at the property.
Sexual comments
The victim was in her room watching TV when McGeechan came in uninvited.
She was lying on her bed when the McGeechan leaned over and kissed her.
The victim yelled: "What are you doing?"
Despite her protests, McGeechan pinned her to the bed before pulling off her clothes.
He went on to have sex with the crying woman, who continued to beg him to stop.
McGeechan then got up and left, and the victim later told a support worker she had been raped.
Prosecutor Shirley McKenna told how - before the rape - McGeechan had a history of making "inappropriate sexual comments" to the victim.
'Unfortunate difficulties'
In January this year, he was spoken to by the support worker after making a remark on Facebook.
But, a month later he repeated this and also sent her a message begging for sex, which she refused.
Weeks later - after being allowed to stay at the same house - he attacked her.
The teenager - who worked as a marshall at stock car race meetings - broke down in tears as he was remanded in custody pending sentencing next month in Edinburgh.
Judge Lord Turnbull refused a request to continue bail for McGeechan, who now lives in Glenrothes, Fife.
He told him: "You are a young man with no record and a history of some unfortunate difficulties.
"But, you have pled guilty to a serious offence indeed. You forced yourself on a young girl despite her protests and unwillingness.
"Only a custodial sentence can reflect the gravity of such conduct."