Calls for Edinburgh's Holyrood Park road safety action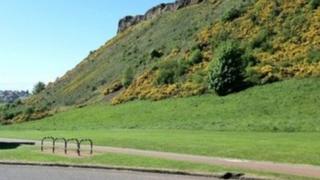 There has been a call for action to improve road safety in Edinburgh's Holyrood Park.
It has come from 10 disability and environmental charities.
They said changes must be made to ensure the historic park becomes "a safe and attractive space for all".
City of Edinburgh Council is preparing to introduce a 20 mile per hour speed limit across much of the capital but the limit on a section of road through Holyrood Park will remain at 30.
The changes will take effect next year.
The charities' call follows concerns about what they said is "the growing number of traffic accidents in the park".
They point out the park only has one pedestrian crossing, despite its size and the high levels of commuter traffic.
John Lauder, the National Director of Sustrans Scotland, said: "While Edinburgh city council is rolling out 20 mile per hour zones across the city, the iconic Holyrood Park is being left behind.
"It is just not living up to its potential as a safe, attractive space for people on foot and bike to enjoy."
The authorities have already faced criticism from park users over an alleged failure to enforce existing speed restrictions.
David Spaven, the convener of Living Streets Edinburgh, said: "Holyrood Park is a unique green space, close to the heart of the city, but it's become far too dominated by the speed and noise of vehicle traffic.
"The time is right for Historic Environment Scotland and the Scottish Government to consider transport priorities for the park, with the needs of people on foot put right at the top of the list."
RNIB Scotland is also supporting the call for action.
Interim director Ross Macfadyen said: "The high volumes of traffic not only affect the air quality and noise but also people's perception of how safe the park is.
"This can be very off-putting for many people with sight loss and can result in them not using the park."
Holyrood Park is managed on behalf of the Scottish ministers by Historic Environment Scotland.
A spokeswoman told BBC Scotland: "We welcome the city's decision to implement a 20mph speed limit and are planning a review of our existing traffic management plan, including the current speed limit and opportunities to maintain safe access for all park users.
"The review will involve consultation and we look forward to working with key stakeholders such as Living Streets in the future.
"Any changes to the speed limit or the wider traffic management plan will need agreement with our partners at The City of Edinburgh Council and Police Scotland."
The charities making the call include RNIB Scotland, Guide Dogs Scotland, Age Scotland, Sustrans Scotland, Spokes, Paths for All, Living Streets Edinburgh, Living Streets Scotland, Transform Scotland, and Ramblers Scotland.