Woman dies after explosion while making wreath for daughter's grave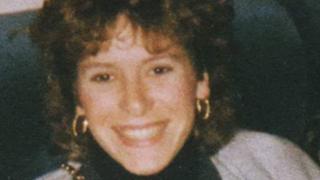 A mother using aerosols to make a wreath for her daughter's grave has died after a cigarette sparked an explosion in her East Lothian flat.
Roseanne Rowan Armstrong, 43, told firefighters she was making a wreath when the accident happened at her home in Old Craighall on Sunday.
She later died in hospital.
The fire service said she probably saved her parents' lives by going back into the house twice to rescue both of them from the blaze.
Hero mum
Ms Armstrong, who was a carer to her mother and father, collapsed after getting her father out of the burning house at about 02:00. She was treated at the scene and then taken to the ERI.
Her parents, Bobby Rowan, 77, and Margaret Rose Rowan, 76, are being treated at Edinburgh Royal Infirmary for smoke inhalation.
Ms Armstrong's son, Edward Armstrong, 23, paid tribute to the mother-of-eight and told the BBC Scotland news website she was a "hero" in his eyes.
He said: "My mum gave her life for my grandparents.
"She had been making a wreath for my sister Mary-K who passed away in October 2014 and her sister, also called Mary-K, who died about 20 years ago.
"She had just finished and had lit a cigarette when there was a big explosion. When she regained consciousness she jumped out of the window as she was on fire and tried to rip her clothes off but they were stuck to her skin.
"So she ran back into the house and rescued my granny and took her back outside and then walked through flames to get my granddad who is very heavy and can't walk and carried him outside before collapsing and dying.
'Thoughts with family'
He added: "We are all devastated and feel very bad. My mum is a hero and was devoted to my grandparents."
He said his mother moved into her parents' house 16 months ago to care for them while her husband looked after their children, the youngest of whom is two years old.
There were 10 aerosols in her bedroom where she had been making the wreath.
An investigation is being conducted at the ground floor flat in Old Craighall Road.
A Scottish Fire and Rescue Service (SFRS) spokesman said: "Our thoughts are with her family at this sad time."
A Police Scotland spokesman said: "Inquiries are ongoing into the full circumstances."