Edinburgh trams: Extension to Newhaven gets green light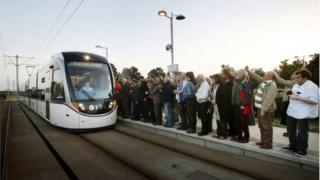 Councillors in Edinburgh have agreed the city's tram line should be extended by three miles to reach Newhaven.
The decision to approve the proposal in principle was described as a "first cautious step" during a meeting in the City Chambers.
It follows a council report that recommended extending the current line to Newhaven at a cost of £144.7m.
That report suggested using financial dividends from the city's profitable bus company to meet the initial costs.
Councillors voted to review that business case ahead of their next meeting in three weeks' time.
Leith was part of the original tram route but, after the project hit problems, the tracks got no further than York Place in the city centre.
Now a nine-month period of development will begin, including site investigation and procurement.
Once that is complete, a report will be brought back to the council recommending the way forward.
Andrew Burns, Edinburgh city council's leader, said: "I am pleased we have been able to find a way forward for the project, which would deliver a range of key benefits in terms of economic growth, greater accessibility and the environment for Leith and the city as a whole.
"It is now our intention to ensure complete clarity before taking the next step, taking into account the needs of the city's tax payers.
"I therefore look forward to receiving a report providing further detail on the outline business case before progressing the project to the next stage."
Edinburgh's tram service began running in May 2014, but only after six years of disruption and a bitter dispute between the city council and its contractor.
The previous Labour-led Scottish government originally earmarked £375m to pay for the tram network, which ended up costing £776m and began running years late.