Fencing and signage planned for Prestonhill Quarry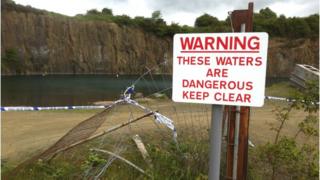 Safety improvements to a Fife quarry where two teenagers drowned are to be funded by the council.
John McKay, 18, from Kirkcaldy, died in June 2015, while Cameron Lancaster, 18, from Burntisland, died in August 2014, at Prestonhill Quarry, Inverkeithing.
Funding of £12,500 was approved earlier by the South West Fife Area Committee for fencing, signage and a memorial.
Gillian Barclay, Cameron Lancaster's mother, earlier this month said she did not want further deaths at the quarry.
Lesley Laird, Inverkeithing councillor and Fife Council's deputy leader, said: "Our top priority is to keep people safe in this area, and prevent any further tragedies.
"The £12,500 from Fife Council will go towards improving the fencing round the quarry and forms part of an action plan covering signage, fencing and education.
"We urge people to avoid using this area, and we are also supporting educational initiatives and direct discussions with the local community to raise the profile of the dangers of swimming or playing in quarries.
"Unfortunately, Fife council is still having real difficulties in tracking down the owners of the quarry and making sure they fulfil their obligations. The council continues to pursue the owners."