Edinburgh trams: Business groups back taking trams to Newhaven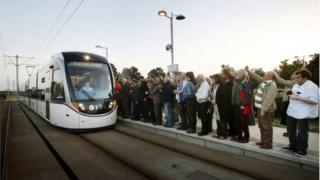 Business and transport groups have urged councillors to back plans to extend Edinburgh's tram network.
The Scottish Council for Development and Industry (SCDI) and Transform Scotland want the tram route to be extended to Leith and Newhaven.
They want it to act as a springboard for a wider city light rail network.
They have issued a joint briefing on the project to Edinburgh councillors ahead of a vote on the recommendation to extend the tram network on Thursday.
It is estimated the three-mile extension would cost £144.7m to build.
It will also cost £25m to cover the cost of preparatory works and initial borrowing payments.
The trams began running 18 months ago but they currently terminate in York Place in the city centre.
Gareth Williams, director of policy at SCDI, said: "As national organisations, Transform Scotland and SCDI recognise that what happens in Edinburgh is key to Scotland's success as a low carbon, knowledge economy.
"The city has the strongest economy of any city in the UK outside London and with population growth forecasts the joint fastest in Scotland, it is important that city continues to invest in its transport infrastructure."
Paul Tetlaw, spokesman for Transform Scotland, said: "Now is the time to take the next step towards a comprehensive network by extending the line to Newhaven and so joining up development in Leith and Newhaven with the developments at the St James Quarter, Edinburgh Park and Edinburgh Airport.
"This will send positive signals that Edinburgh is following the worldwide trend of developing sustainable transport infrastructure and intends to keep pace with its competitor cities across the continent."