Murdered accused Ross Taggart 'agitated' over missing mother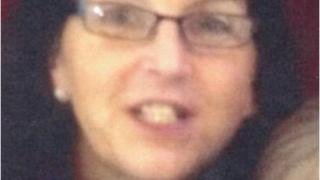 A man accused of murdering his mother appeared "upset and agitated" when telling police she had gone missing, a court has heard.
Ross Taggart, 31, denies attacking and strangling Carol Anne Taggart and concealing her body under her caravan at Pettycur Bay in Fife.
He is on trial at the High Court in Edinburgh.
PC Alexander Smith said he had spoken to Mr Taggart at the family home in Dunfermline last December.
The police officer told the court he was following up a report of a missing person.
'Spick and span'
He said Mr Taggart had told him he had been involved in an argument with his mother who had left the house and driven away.
The policeman was asked how Mr Taggart was and responded: "He seemed upset and agitated at the time, anxious."
He said Mr Taggart said he was going to go to a caravan the family owned at Pettycur Bay, but was told to phone the police and an officer would go in first.
PC Neil Gribbons went to the caravan park and contacted Mr Taggart and asked where to meet him, the court heard.
He said the accused indicated he had already been in the caravan. "It was locked but there were lights on," he said.
The officer said the caravan was "immaculate" and added: "Everything just appeared spick and span.
Taggart is alleged to have assaulted his mother and repeatedly struck her on the head "by means unknown", seized hold of her neck and compressed her throat using his hands or an unidentified item.
The jury was told in agreed evidence that following a post-mortem examination the cause of death was given as "compression of the neck".
It is alleged Mr Taggart hid the body of his mother in a void beneath the caravan at Pettycur Bay. It is claimed he cleaned the caravan, the house at Hill of St Margaret and the boot of a car to remove blood stains and other forensic evidence.
He is also alleged to have reported her to the police as a missing person and told friends, family and police officers that she had left home on 22 December of her own accord and that he was unaware of her whereabouts.
He denies the charges and the trial continues.