Dick vet in Edinburgh in dog blood donor session first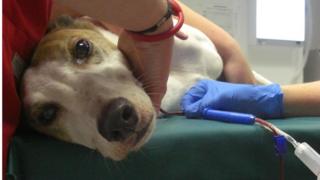 The Royal (Dick) School of Veterinary Studies in Edinburgh is to stage its first blood donor session for dogs.
Owners of new donor dogs are being urged to sign up for the event, which is being held on Sunday.
The session takes about 40 minutes, of which 10 minutes is for the donation.
Dogs must be fit and healthy, between one and eight years old, weigh more than 25kg, have a good temperament, have never travelled abroad, be vaccinated and not on any medication.
Potential donor owners need to register for Sunday's event on the Pet Blood Bank website.
Pat Galbraith's 22-month-old West Highland Terrier, Lacie, nearly died last summer after collapsing at her home in Ross-shire.
She was later diagnosed with Immune Mediated Haemolytic Anaemia, a condition where Lacie's immune system attacks her own red blood cells.
Ms Galbraith said Lacie would not be around to celebrate her second birthday if it had not been for blood supplied by Pet Blood Bank UK.
She urged fellow dog owners to consider putting their own dog forward as a donor for the Pet Blood Bank UK donation session.