Scottish Poetry Library reopens after £500,000 revamp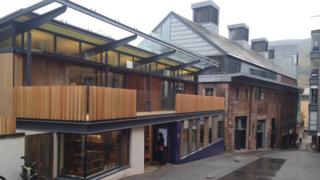 An Edinburgh library, which holds the largest open-access collection of Scottish poetry in the world, has re-opened following a £500,000 revamp.
The Scottish Poetry Library was officially opened by Culture Secretary Fiona Hyslop and National Poet of Scotland Liz Lochhead.
The library, in Jackson's Entry off the Royal Mile, has more than 45,000 books.
There are new soundproof and recording spaces so that poetry can be recorded as well as written.
Ms Hyslop said: "The Scottish government is committed to supporting our country's rich culture and heritage and the Scottish Poetry Library on Edinburgh's Royal Mile is truly unique.
"As the only independently constituted and housed poetry library in Britain, and Europe, it stands for the importance of poetry in Scotland and highlights our exceptional literary talent."
Liz Lochhead said: "What a thrill to have the Scottish Poetry Library re-opening in a new incarnation that's even more user-friendly than before. Space for the sounds, as well as the texts, of poetry.
"A place for our age, and for those to come. A help and a haven and a rich resource for all lovers of poetry - which in our country is practically everyone."
The library opens to the public on Thursday.