Keith Livingston given first hare coursing Asbo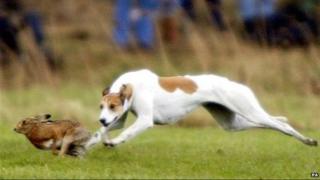 A man caught hare coursing in East and Midlothian has received the first Anti Social Behaviour Order (Asbo) for the crime in Scotland.
Keith Livingston, 54, was also fined £150 for two offences under the Wildlife and Countryside Act 1981 at Edinburgh Sheriff Court on Friday.
The conditions of the Asbo prevent him from entering land with a dog or with other people with a dog for 18 months.
Livingston was arrested near Pathhead, Midlothian in October 2014.
PC Jamie Hood, of Police Scotland, said: "Hare coursing is a crime that has no consideration for wildlife or the impact on people who legitimately make a living from the land.
"People involved in this activity can also be involved in other criminal activity.
"This sentence should serve as a serious deterrent to anyone involved in hare coursing in Scotland."