Scottish National Gallery of Modern Art gets 'exceptionally rare' Picasso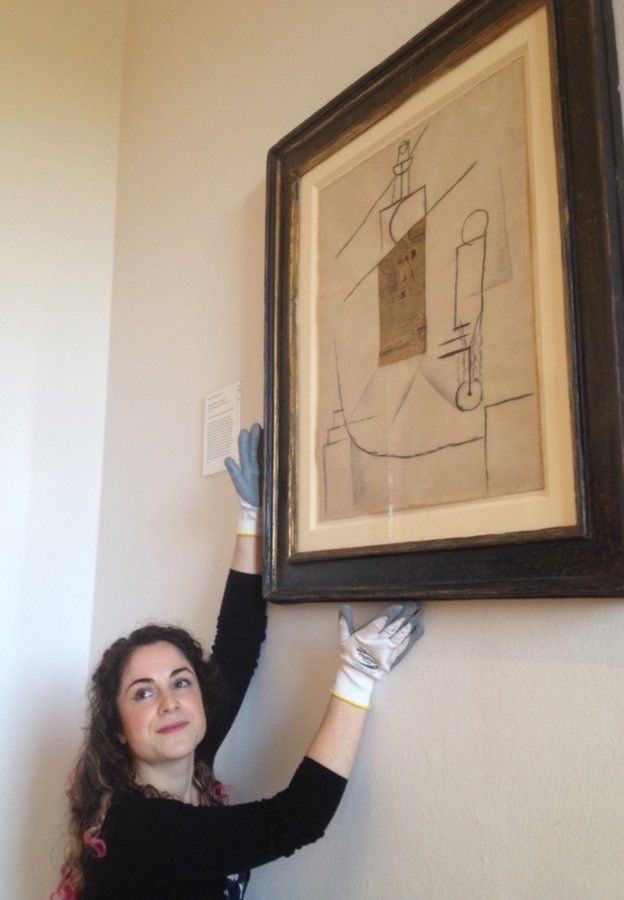 The Scottish National Gallery of Modern Art is to unveil an "exceptionally rare" work by Picasso later.
The Cubist collage Bottle and Glass on a Table was created in 1912.
Only about 30 of the pasted paper collages made by Pablo Picasso in this period survive.
Gallery director Simon Groom said the piece, one of a small group of newspaper collages by Picasso, was the kind of work any major museum in the world "would love to have".
In the collage, the outline of the bottle is made up of a French newspaper cutting which features an advert for Quaker Oats and another for cherry brandy.
Picasso is said to have been inspired to create collages by the French painter Georges Braque, who made a few drawings in 1912 which incorporated pieces of printed paper.
In December of that year, Picasso made a group of collages. The gallery described these as "landmarks in the history of modern art".
Other works in the group are in collections such as the Metropolitan Museum in New York and the Musee Picasso, Paris.
Bottle and Glass on a Table was purchased with support from the Walton Fund, which has already allowed the gallery to buy a Cubist drawing by Picasso.
Mr Groom said: "Henry and Sula Walton were particularly passionate about Picasso's work, assembling a collection of more than a dozen of his prints which they bequeathed to us.
"This is a stunning new acquisition, the kind of work that any of the world's great museums would love to have."
Henry Walton and Sula Wolff were researchers and authors on psychiatry. They built up an art collection which included prints by the artist, a collection which they donated to the gallery along with funds to allow further purchases.
This collage was brought to Edinburgh after having been in a private collection in Sweden for more than 40 years.
Mr Groom added: "In this small group of newspaper collages, Picasso turned centuries of tradition upside-down, and the reverberations are still being felt in the art of today.
"Together with the drawing we acquired last year, a collage of 1913 and a painting of the same period, we now have a superb collection of Picasso's Cubist work."
Related Internet Links
The BBC is not responsible for the content of external sites.