Cardinal Keith O'Brien's honorary degree will not be revoked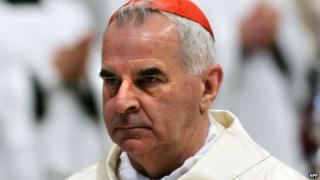 An honorary degree awarded to Cardinal Keith O'Brien by St Andrews University will not be revoked.
The former head of the Catholic Church in Scotland stepped down in disgrace two years ago after admitting sexual misconduct.
The university's senate business committee dismissed a request from a member of staff who had called publicly for the degree to be rescinded.
Cardinal O'Brien was awarded a doctorate in Divinity in 2004.
The committee said it recognised that "universities awarded honorary degrees in good faith on the basis of evidence available to them at a point in time, that revocation cannot change or ameliorate the wrongs of the past and that, notwithstanding the very real hurt and loss caused by the actions of the honorand, it would be no more than an empty gesture".
The committee also formally recorded its disapproval of the inappropriate manner in which the request had been brought into the public domain before any decision had been reached by the committee in what could be interpreted as an attempt to prejudice the decision-making process.
Dr Manfredi La Manna, who led the bid to remove Keith O'Brien's degree, said he was "disappointed but not wholly surprised" by the decision.
He said: "I would have thought that as O'Brien's behaviour was considered disreputable enough for the Holy See to withdraw his rights as cardinal, the university would have been on safe grounds by rescinding his honorary degree.
"But what I consider a symbolic re-affirmation of the values of honour and dignity to be upheld by universities is apparently an 'empty gesture'. It would be interesting to know how low should an honorand's behaviour sink before withdrawing the symbolic honour is deemed appropriate."
Dr La Manna also rejected any suggestion he had acted inappropriately in pursuing his campaign.
"It is a sad day for academic freedom if the public expression of considered argument is regarded as 'an attempt to prejudice the decision-making processes of the committee'," he said.