Cala Homes figures in rapid growth surge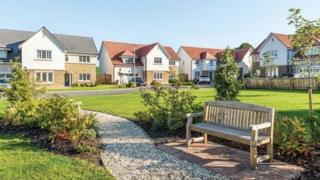 Cala Homes, the Scots-based builder of up-market homes, has released figures showing a rapid growth surge.
Sales in the year to June were up 79% to £512m, while profits rose 90% to £51m.
It was helped by a rise in completions, increasing prices and the acquisition of another firm.
The company intends to continue its rapid expansion to reach turnover of £1bn within five years. Cala is run from Edinburgh and Buckinghamshire.
The firm, which was founded in Aberdeen in 1875, has expanded its presence in England.
'New strategy'
Having secured private equity backing, in March 2015 it acquired Banner Homes, strengthening its position in the affluent housing markets of the Midlands and south-east England.
With property prices high there, it helps explain how Cala's average sale price reached £509,000 by June, up from £423,000 a year before.
Its land bank has increased in size from 12,690 plots to 13,690.
It believes that has a gross development value of more than £5bn.
Cala Group chief executive Alan Brown said: "This has been another outstanding year for Cala and the first full year of our new strategy.
"We are now operating from around 90 sites in eight regions around the country and are benefitting from this significantly increased presence, particularly in Southern England.
"This growth trajectory has led to us continuing our recruitment programme apace, welcoming 169 new members of staff to the business and stepping up our apprenticeship and graduate recruitment initiatives across the group.
"Our focus now is on driving operational efficiency improvements throughout the group which will in turn flow through to improved operating margins and return on capital employed as we target group revenues of £1bn within the next five years."