National Museum of Scotland staff take strike action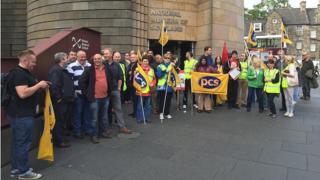 Staff at the National Museums of Scotland have begun seven days of strike action.
The move is part of a union campaign, now in its 18th month, over the removal of a weekend allowance from new members of staff.
The action comes as the city is at its busiest for the Edinburgh Festival.
The Public and Commercial Services union said about 120 members were on strike following the collapse of talks with National Museums Scotland (NMS).
The action was caused disruption to both the National Museum of Scotland and the National War Museum.
Union officials said the weekend pay changes had created two rates for staff; those who get the allowance because they were employed before 2011, and those who do not.
Fair pay
Officials said withdrawal of the allowance could reduce an individual's pay by between £2,000 and £3,000.
Alan Brown, industrial officer for PCS Scotland, said: "This has been an 18-month long dispute now and essentially it's about fair pay.
"If someone was employed by the National Museum of Scotland in December 2010 and worked weekends then they earn between £2,000 and £3,000 more than a colleague working beside them if they joined in January 2011, so it's wrong that this is the case.
"We've been taking action to get both the National Museum of Scotland and the Scottish government to accept responsibility for this and do something about it and to end this two-tier workforce that exists."
He said industrial action was "regrettable" but that the matter was in the hands of management and the Scottish government.
"I'll be on the picket line if they want to talk to me," he added.
'Deeply regrettable'
A National Museums Scotland spokeswoman said both the National Museum of Scotland and the National War Museum would be partially open on Monday.
"The Scottish Galleries will be closed at the National Museum of Scotland, but Free Fringe Music will continue this afternoon in the Grand Gallery," she said.
"No member of staff has received a pay cut following the introduction of new contracts in January 2011. Existing terms and conditions have been preserved for all staff employed prior to this date."
A Scottish government spokeswoman described the strike as "deeply regrettable".
She said: "All operational matters are for the board of trustees of National Museums Scotland, and we continue to actively encourage the National Museums and trade unions to continue discussions facilitated by Acas to seek a resolution.
"NMS is compliant with Scottish government pay policy including delivering at least the Scottish living wage for all its employees."
She said Culture Secretary Fiona Hyslop had encouraged both sides to "engage in a more productive working relationship with a view to addressing and resolving these pay-related issues as soon as possible".
A two-day strike over the issue closed the National Museum of Scotland and the National War Museum in April.
The National Museum was the most visited free attraction in the country last year with more than 1.6 million visitors, and was also the most-visited museum outside London.