Charities call for vehicle excise duty cash to improve cycle paths and pavements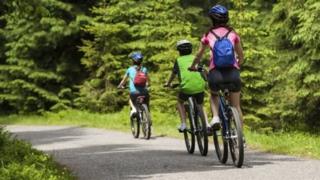 The Scottish government has been urged to use vehicle excise duty cash to help improve cycle paths and pavements.
A group of charities made the plea after UK Chancellor George Osborne said he would put money from vehicle excise duty into a new roads fund for England.
Mr Osborne pledged to consult with the Scottish government on "how the money is allocated there".
Seven charities are calling on Holyrood ministers to adopt a different approach when spending their share of the cash.
In a letter to the Scottish government, the charities called for "an approach which reflects Scotland's world-leading ambition on climate change".
Colin Howden, director of Transform Scotland, said: "Vehicle excise duty is a tax on pollution but the UK government's plan in England will see it used to increase traffic and pollution.
"We have an opportunity to do things differently in Scotland. Investing in a repair fund for our footways and local roads - where most everyday journeys are actually made - will benefit pedestrians, cyclists and drivers alike without increasing road capacity."
John Lauder, national director of Sustrans Scotland, said: "It is good that in Scotland we have clear government support for walking and cycling. We've made big strides but there's much still to do.
"Continued investment in cycling and walking, and better integration of active travel with public transport, will enable more people to choose healthier, cleaner and cheaper journeys while reducing congestion and making Scotland's communities more attractive and liveable places."
A Scottish government spokesman said: "Following the announcement in the UK government's summer budget that Vehicle Excise Duty is to be reformed we have written seeking clarity and greater detail about the plans.
"To date, limited information has been passed to us on this issue. More generally it's important to note that Scottish transport emissions have actually fallen for six years in a row - equivalent to a 13% reduction overall."
The spokesman said there was already a series of major commitments and significant investment in this area and a shared vision with the charities of 10% of everyday journeys by bike by 2020.
They also highlighted recent announcements including the launch of a second Future Transport Fund, continuing support for associated initiatives such as low carbon buses and 'Smarter Choices Smarter Places', a policy to tackle the school run, and the development of a Low Emission Zone (LEZ) pilot project.