Edinburgh trams: Options for line extension revealed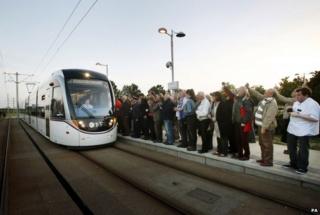 Edinburgh city council is looking into extending the tram network to Newhaven, Ocean Terminal or the foot of Leith Walk.
The council wants to continue the tram line from the city centre along part of the original route scrapped when the project ran into trouble.
The line currently stops at York Place in the city centre.
Extension cost estimates would be £144.7m to Newhaven, £126.6m to Ocean Terminal and £78.7m to Leith Walk.
Councillors are set to be updated on the progress of a £400,000 business case into the extension on 23 June.
The business case will now look into testing and auditing the plans and look into funding ahead of the final decision in the Autumn.
City chiefs confirmed they would ask the Scottish government to help fund the project if it is approved by councillors.
There would be no more trams bought for the extension.
Lesley Hinds, Edinburgh city council's transport convener, said: "I am extremely pleased with the progress of the business case, which already shows the clear economic impact the extension of the tram line could have on the city.
"In the tram's first year of operation we have seen passenger numbers increase, demonstrating a growing demand for public transport in Edinburgh and making the case for extending the tram to benefit people elsewhere in the city.
"But we don't want to make any rash decisions about the future of the project, and that's why further due diligence is required to ensure a robust financial case that can be used as a basis for an informed judgement.
"We will also be exploring all avenues for funding, and considering a series of new and innovative options with a view to delivering best value.
"It is essential that we learn from our past mistakes and I am confident that this process will deliver thoroughly researched, strategic options for a tram extension."
Edinburgh's tram service began running in May 2014, but only after six years of disruption and a bitter dispute between the city council and its contractor.
The previous Labour-led Scottish government originally earmarked £375m to pay for the tram network, which ended up costing £776m and began running years late.