Woman felt 'violated' in Leith rape attack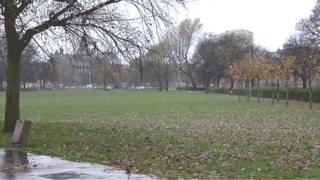 A woman has told a court how she felt "violated" and "scared" after she was allegedly raped and robbed by a man in an Edinburgh park.
The 29-year-old, who cannot be named for legal reasons, said a man attacked her in Leith Links in November 2014.
The woman, who works as a prostitute, was giving evidence on the first day of proceedings against Faizan Ali, 24.
Mr Ali denies raping the woman on 13 November 2014. He has also pleaded not guilty to two other charges.
The High Court in Edinburgh heard the woman claim that the man held a knife to her body and demanded she give him cash.
'Felt like a lifetime'
When she failed to give him money, he forced the mother-of-one to perform a sex act before raping her.
He then forced her to perform another sex act on him.
The alleged victim told the court that her alleged ordeal seemed to last "like a lifetime."
She added: "I felt violated and scared.
"I told him I had a daughter. I was crying through the whole thing begging him to stop. But he wouldn't.
"It was horrible. I was scared."
Mr Ali's solicitor advocate Brian Gilfedder has lodged a special defence on his client's behalf which states that the pair had consensual sex.
The trial, which is being heard before judge Lord Burns, continues.