Edinburgh Airport reports record passenger numbers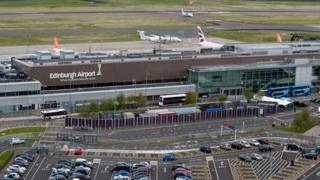 Edinburgh Airport has reported its busiest May on record.
A total of 1,024,013 people travelled through the airport in May, an increase of 9.3% on the same month last year.
There were increases in both domestic and international passenger numbers, which officials said had "primarily" been driven by new routes launched within the last year.
The airport also said it was working to tackle problems with lengthy queues at peak periods.
More than 570,000 international passengers travelled through the hub in May, up by almost 56,000 on the 2014 figure.
Domestic passenger figures increased by 7.4%, with 450,928 people travelling through the airport.
Long queues
Gordon Dewar, chief executive of Edinburgh Airport, said: "To see over one million passengers travelling through our airport last month is phenomenal and is a sure sign of a busy summer season.
"Increased capacity on routes to Paris, Basel, Lisbon and Madrid with easyJet, as well as Qatar Airways increasing their Doha service to daily at the beginning of May and the launch of the new American Airlines service to New York JFK, have all meant more passengers through our doors."
However, he admitted that passengers had been queuing "for longer than we'd like" to get through security and other parts of the terminal building in recent months.
"This isn't what we want and we're working hard to resolve this as quickly as possible," he said.
"Our analysis has shown us that queues are building at peak times when a huge number of passengers are arriving at the airport in a very short space of time. These tend to be early mornings, and Friday and Sunday afternoons."