Taxi outing takes children to Yellowcraig beach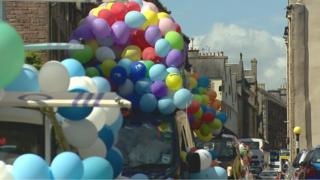 The streets of Edinburgh have witnessed an injection of colour as the annual Edinburgh Taxi Trade Children's Outing made its way through the city.
The procession of decorated cabs ferried groups of children with special needs and illnesses for a day.
The children were taken to Yellowcraig beach in East Lothian.
The tradition, which dates back to 1965, sees prizes awarded for fancy dress and unsuspecting passers-by soaked by water pistols.