Edinburgh home care company Allied Healthcare 'must improve'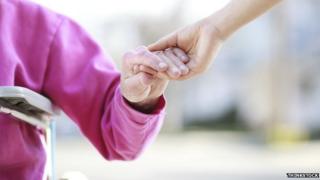 An Edinburgh home care service for elderly and disabled people has been told to make "urgent improvements" by the social care regulator.
The Care Inspectorate issued the formal improvement notice on Allied Healthcare's Edinburgh service after an inspection raised "serious concerns".
The company has seven weeks to demonstrate changes have been made or risk its registration being cancelled.
The care watchdog raised concerns about visit times and medication procedures.
Allied Healthcare, based at Newhaven Road, has been told it must now meet the terms of the notice or risk the cancellation of its registration with the Care Inspectorate.
It has until 24 July to demonstrate that changes are being made.
The company provides care in people's homes in the south west and south east of the city.
The improvement notice said it is "not operating in accordance with conditions" imposed under the relevant legislation.
'Committed' to improvement
Allied Healthcare, which describes itself as the "UK's leading provider of domiciliary care", will now have to demonstrate that its scheduled visit times and actual visit times correspond with those agreed with the service users.
It also has until 24 July to ensure that "medication procedures and practice promote the health and wellbeing of service users".
A Care Inspectorate spokesman said: "Our most recent inspection of this service, completed in May, raised some serious concerns.
"As a result we have issued this service with an improvement notice.
"Unless we see evidence of significant improvement on the areas we have highlighted we will not hesitate to take further action. We remain committed to working closely with this service to ensure it improves."