Investigation after children hurt by 'bouncy slide' in Fife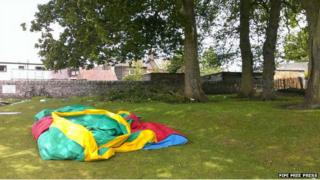 An investigation is under way out after five people were injured when an inflatable slide blew into a crowd in high winds in Fife.
A six year old child and an adult were taken to hospital after the incident at Cupar Children's Gala on Saturday.
It is understood the child sustained a leg injury, while the adult was treated for a shoulder complaint but neither are believed to be serious.
Organisers said every safety precaution was risk assessed.
'Adverse weather'
The inflatable was blown about 150 yards into the crowd at Duffus Park at about 14:15.
Roy Stewart, senior manager protective services with Fife Council, said: "Environmental health officers are carrying out an investigation - we are gathering facts and information about the incident and have a lot of people to speak to.
"Once this is done we will be able to decide on the most appropriate course of action. We wish those involved a speedy recovery."
Organisers for the event thanked those who had helped and offered support after the accident.
A statement on the group's Facebook page read: "Every safety precaution was risk assessed and fulfilled by the committee and service providers prior to the gala commencing and during the event.
"Unfortunately, due to adverse weather conditions, out with our control, an emergency situation did occur. The incident is currently being investigated and any findings will be announced once available."