Hundreds attend funeral for custody death man Sheku Bayoh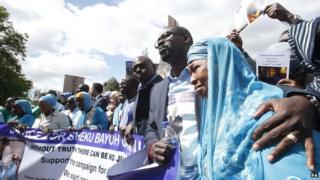 Hundreds of people have attended the funeral of a Fife man who died in police custody as an investigation into his death continues.
The funeral procession stopped at Kirkcaldy police station, where a two minute silence was held.
It then headed on to the Kirkcaldy Islamic Centre Mosque, where prayers were being held.
Sheku Bayoh was held following an incident in the town's Hayfield Road area on 3 May but died in custody.
The family's lawyer, Aamer Anwar, said: "It was five weeks ago that Sheku Bayoh died in police custody, his body was released this week and the cause of death has not been determined.
"The family have been fighting for answers."
An investigation by the Police Investigations and Review Commissioner (PIRC) is currently under way.
'The truth'
On the events surrounding his death, Mr Bayoh's relatives claimed they were told five versions of what happened.
In an interview with the Sunday Herald, Mr Bayoh's elder sister, Kadi Johnson, said: "In any normal circumstances, when something like this happens, people are investigated, people are suspended... but that has never happened.
"When something like this happens, PIRC should jump in right away, but it didn't work that way. All we want is the truth. We want to know exactly what happened and we want justice."
Investigators looking into Mr Bayoh's death have confirmed that the arresting officers have agreed to provide statements.
The Scottish Police Federation (SPF) said officers had been responding to a call of a man brandishing a knife.
PIRC said they had made several failed attempts to get statements from the officers concerned.
A spokeswoman said: "The PIRC has been leading on the investigation into the death in custody of Sheku Bayoh and since the hours following his death on Sunday 3 May 2015, has made several attempts to secure statements from the arresting officers.
"Those officers have now agreed to provide statements to the PIRC and now that the PIRC is in the process of gathering the material, it will be considered along with the information already gathered throughout the course of the investigation to date."