Schuh workers to share £25m bonus windfall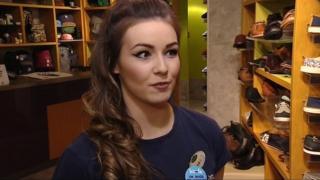 Thousands of people employed by footwear firm schuh are to share in a £25m profit-related bonus.
The Livingston-based company, which has more than 500 staff in Scotland, confirmed the payouts after announcing annual profits of more than £11.5m.
The bonus was agreed as part of a 2011 deal when Tennessee-based Genesco Inc. bought the company for £125m.
The amount each of the company's 3,500 UK workers receives will depend on their length of service and salary.
Typically, a full-time sales advisor on an annual salary of £14,000 and with five years' service will get a bonus of £3,000.
A full-time store manager with a £34,000 salary and 10 years' service will receive £14,000.
'Hard work'
At the time of the 2011 takeover schuh, which has 111 shops around the UK, gave staff a £37.3m share of the deal.
Colin Temple, chief executive of schuh, said: "Despite real challenges for all high street retailers, schuh is going from strength to strength.
"The success of our business is based on the hard work and dedication of our people and there is no better way to thank them than to let them know today that we are sharing £25m throughout the business."
Workers at the Glasgow city centre branch of schuh told BBC Scotland they were surprised to find out about the bonus when they arrived at work on Wednesday morning.
Trainee manager Sophie Khan, who has been at the firm for four years, said she was in shock when she was told.
"Now it has sunk in we are so excited," she said.
"I've been saving up for a holiday or two this year so I might as well make it three."
Part-time worker Julie Somerville, who has been at schuh for three years, said she was "buzzing" when she found out.
"I'm quite skint so it was good to get a bonus. It's good to get recognition for our hard work."
Ross Docherty, who has worked in the shop part-time for 11 months, said it was a good way to start the day.
He is planning to spend his bonus on going to festivals this summer.